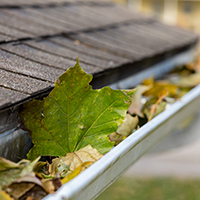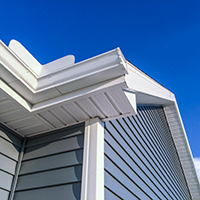 We take great pride and care in all of our installations.
Every single eavestrough installation begins with a conscientious inspection of eaves, fascia boards and soffits. This is done so there are no surprises during the installation process.
Our extensive knowledge of the industry and leading edge technology will make your installation superior in quality and appearance.
Machined on site, thus avoiding the risk of breaking and scratching during shipping and ensure a leak free system
The materials we use are of the highest quality in Aluminum and Copper. We offer in a wide range of colors in Aluminum as well as 5" and 6" K-style and half round style to suit many applications.
The importance of eavestroughs
At Rainer's our goal is to customize our services to meet the customers' unique needs. Our team of professionals specialize in eavestrough inspection, repair, and installation. During your house/building inspection, a Rainer's employee will fully analyze your home and eavestrough system to determine what service(s) will best suit your needs
We also offer a gutter clean system, installed on top of existing gutters, without replacing them, this kind of gutter protection prevent leaves and debris from collecting inside gutters and clogging them.service(s) will best suit your needs
Do I have to pay for you to look at my eavestroughs?
No. Rainer's offers free estimates, so just call us if you're unsure about the state of your eavestroughs and downspout systems and we'll take a look free of charge.
How do I know if my system should be replaced or repaired?
We will come to your home and let you know what your best option is. Our service is completely honest so you can expect a trustworthy assessment. Don't spend money if you don't have to.
Can my house be damaged from broken eavestroughs?
Unfortunately, yes. Poorly maintained and damaged gutters can cause serious problems, including basement flooding, siding and brick damage, and can have other devastating consequences to your home.
How long will this process take?
Every house call is different so we can't say for sure. But we guarantee fast and efficient service so we're not taking up any more of your time than we have to.
We proudly stand behind out 5 year workmanship warranty. Product warranties are backed by the manufacturer.
Get your project started today!
We are your trusted, local siding and roofing project solution.