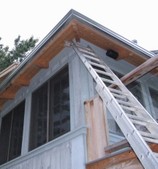 Rainer's Siding takes great pride and care in all of its installations. Every single eavestrough installation begins with a conscientious inspection of eaves, fascia boards and soffits. This is done so there are no surprises during the installation process.
Our seamless eavestroughs are machined on site, thus avoiding the risk of breaking and scratching during shipping and ensure a leak free system.
The materials we use are of the highest quality in Aluminum, Steel and Copper. We offer in a wide range of colors in Aluminum as well as 5" and 6" styles to suit many applications.
Installed with Heavy Duty Hangers or the Trusted T-Rex Continous hanger system to Strengthens the gutter to protect against ice and snow, our eavestroughs can be affixed to any type of roof or building structure.
We also offer a gutter clean system, installed on top of existing gutters, without replacing them, this kind of gutter protection prevent leaves and debris from collecting inside gutters and clogging them.
Our extensive knowledge of the industry and leading edge technology will make your installation superior in quality and appearance. We also make repairs to all kinds; fascia, fascia board soffit.